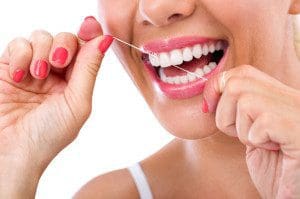 The daily routine for most people goes something like this: They wake up, make their way to bathroom, brush their teeth, rinse with mouthwash, shower, dress and get their day started. In the evening, it's usually brush, rinse with mouthwash again, wash their face and get ready for bed. Some people may add a midday brush and rinse as well. If that's you, you're not doing all you can do to keep your teeth and gums healthy.
What's missing? Flossing, of course!
Studies show that less than one third of all Americans floss their teeth daily. Another third say they never floss. The rest say they floss occasionally. That's a problem. Proper flossing is the best way to regularly remove stubborn food particles between teeth. If left alone, these particles create bacteria that will eventually cause inflammation, gum disease, and promote tooth decay. Flossing can also keep your breath fresh and clean.
When you floss, use a quality floss that easily glides between your teeth and make sure to reach all the way down to the gums. If you haven't flossed in a while – or ever- you may notice some inflammation and slight bleeding at first, but that will subside rather quickly.
Get in the habit of flossing every day. It'll keep your smile healthy inside and out.