Don't we all want to improve our oral health? So many of us have such busy schedules that we get up, brush, dress, grab a cup of coffee and run out the door. Only to find when night time comes we brush, get undressed, and go directly to bed. It may seem simple, but the fact is your dental hygiene may be lacking. Here we provide a few simple lifestyle changes that will make a significant impact on the health of your teeth.
Toothbrush Past Its Prime?
Is your toothbrush past its prime? Toss it! Not only are the bristles getting worn, but all an old toothbrush is doing is also spreading bacteria in your mouth. It would be best if you changed your toothbrush every three months for sure. Also, invest in an electric toothbrush, Waterpik, mouthwash, and dental floss. It only takes a few extra minutes to add these into your schedule and will result in the better overall health of your mouth and teeth.
Dental Flossing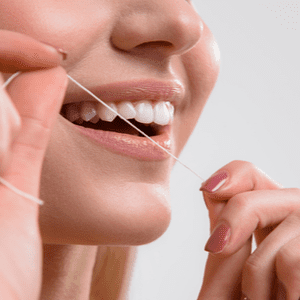 We mentioned above to add dental flossing to your schedule. Yes, it is vital! Toothbrushing merely cleans the surface of your teeth and may not get to those hard to reach areas or in between your teeth. Flossing helps to get rid of food residue and bacteria in those hard to reach areas. It is recommended to floss at least once a day.

See What a Simple Snack Can Do!
Bring a snack of raw fruit to work with you. Apples, carrots, and celery are a few which are referred to as "detergent foods." Which, as the name implies, are known to clean your teeth as you eat.

Slow Down on Certain Drinks, Can The Tobacco!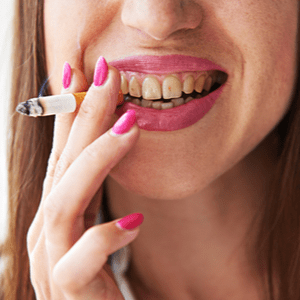 Slow down on drinking alcohol, sodas, and coffees and try to stay away from tobacco completely. They do stain teeth. And unfortunately, even though you may love your drinks and tobacco, they can cause periodontal complications such as oral cancer. If you must drink your favorite drinks, try to drink from a straw to avoid direct contact with your teeth.

Visit The Dentist Regularly
Visit your dentist regularly. Regular teeth cleanings and check-ups every six months, no less than every year, should be added into everyone's schedule, busy or not. Any existing or foreseen dental problems can be identified and addressed before turning into a major issue.
Lifestyle Changes For Better Dental Health
Making these simple lifestyle changes for better dental health is an important part of your everyday life and should be implemented for overall better health. Adding regular dental visits help you avoid or minimize dental problems that may be in your future if not found now.
Are you in need of an excellent dentist, contact Dr. Paul Feldman at Suburban Essex Dental in West Orange, NJ, in Essex County? For the past eight years, New Jersey Monthly has voted Dr. Feldman one of the top dentists in the state of New Jersey. Let out dental team help you to make simple lifestyle changes for better dental health.
We hope you have gained valuable knowledge from reading our article "5 Simple Lifestyle Changes For Better Dental Health". They are easy, so start changing your lifestyle today.