Periodontal Treatments in Suburban Essex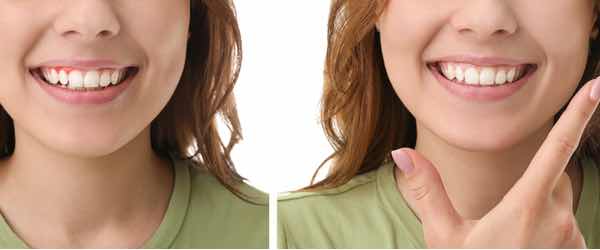 Periodontal disease can be a common but devastating occurrence for many Americans. Luckily, we offer all-inclusive periodontal treatments at Suburban Essex Dental to help you get back to the smile that you love. Our warm and comforting dental office is located in West Orange, New Jersey in Essex County.
Periodontal disease affects all of the soft tissues surrounding your teeth, like gums, periodontal ligament, and alveolar bone. Early signs are typically swollen, sore, or bleeding gums, and if you've noticed that your mouth is a little more tender than usual, please don't hesitate to give us a call.
Healthy Mouth vs. Periodontal Disease
How Do I Know If I Have Periodontal Disease?
While periodontal disease can be caused by a number of things, the most common is typically poor or irregular dental hygiene. By being proactive about brushing, flossing, and making regular visits to your dentist, you can prevent periodontal disease.
If you're experiencing any of the following symptoms, please call your Suburban Essex dentist in West Orange, NJ right away to schedule a visit.
The lasting effects of periodontal gum disease can be very damaging to your dental health. However, through proper preventive care and oral hygiene, you can avoid the many problems associated with gum disease.
How Can Periodontal Treatments Help?
Depending on the severity of your periodontal disease and the current condition of your teeth, your dentist can offer a wide-range of periodontal treatments to correct the situation.
Some of the non-surgical periodontal treatments available include:
For more advanced stages of periodontal disease, surgical procedures may be required to correct or halt the advance of the disease.