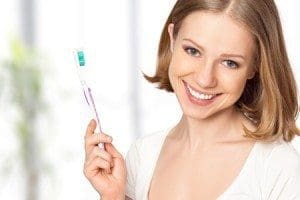 How to Select a Manual Toothbrush
The oral care aisle at your local pharmacy or grocery store can be a little overwhelming. There are plenty of options when it comes to floss, mouthwash, toothpaste, and toothbrushes. Toothbrushes come in a variety of colors, shapes, and sizes. Plus, they make differing claims from "deep cleaning" to "whitening." So, how do you know which one is right for you? We'll help.
First off, if you've ever watched "Home Alone," the character Kevin Mccallister was onto something. When the 8-year-old goes to the register to buy a toothbrush, he presents it to the cashier and says "Is this toothbrush approved by the American Dental Association?" The ADA evaluates toothbrushes for safety and effectiveness. Their list is available online or you can check the toothbrush package.
What else should you look for? When it comes to bristles, nylon is the recommended choice. At this time, there haven't been enough studies done to recommend natural bristles. Soft bristles will help reduce gum abrasion, while medium bristles can be more effective at removing film from your teeth. If you're having issues with bleeding gums, soft bristles are probably your best choice. Consult a dentist for more information about which bristles are right for you if you're uncertain. Also, when choosing brushes, keep in mind that angled bristles or ones with multi-levels may be more effective at getting rid of plaque.
Choose a manual toothbrush head that is easy to maneuver in your mouth, something that allows you to reach around all of your teeth. And choose a handle that fits comfortably in your hand. If you have a condition that causes your hands to shake, pick one with a good grip.
Once you choose your toothbrush, make sure you replace it at least every 3-4 months. Bacteria can be buildup on your toothbrush, especially after a cold. Keep your mouth happy and your teeth healthy. Happy brushing!