Parenting Tips, Pediatric Dental Health Go Hand In Hand
All parents must know that little teeth are a big deal and that healthy dental habits must start at a very early age.

The first and foremost important thing to know when starting a child on a path to good dental hygiene is taking the proper care of their teeth. It all begins with brushing and promoting proper dental habits from birth.
As an adult, brushing and flossing your teeth is a normal part of your daily routine. Who taught you to brush your teeth? As a child, playing was likely at the top of your list, and brushing and flossing probably didn't cross your mind at all. As a parent, it's up to you to create this routine to ensure your child develops healthy habits. Starting this routine as soon as the first tooth erupts is the best time to teach your child how to care for their teeth.
But before we discuss a few ways to get your child to like to brush their teeth, let us provide you with a quick parenting guide.
Pediatric Dental Health Parenting Guide
Try not to use regular toothpaste until the child reaches 18 months old. At that time, only use a little smear.
When the baby's teeth start to come in, brush two times per day.
Between the ages of three and twelve, only use a spot of fluoride toothpaste and make sure your child does not swallow and spits it all out.
Make sure to schedule their first dentist appointment when they turn one.
Now let's move on with pediatric dental health parenting tips to help you implement good oral hygiene with brushing.
Parenting Tips To Promote Kids Dental Hygiene
Teaching healthy habits and helping your child build a dental routine doesn't have to be a battle of wills if you incorporate a little fun. The following tips will assist in making this task much more manageable.
Choosing a Toothbrush
Allow your child to choose a toothbrush in his or her favorite color or character
Many toothbrushes have popular cartoon characters on them with brightly colored bristles that are shaped and sized to fit smaller hands, making them easier to grip. Battery-powered rotary models are incredibly popular with children, encouraging even the most stubborn child to brush.
Choose a Flavored Toothpaste
Choose a flavor your child will like
You may have to try a few different flavors before you find one your child will use. Bubble gum or grape-flavored kinds of toothpaste have been shown to be a favorite amongst toddlers and elementary-aged kids.
Brush Together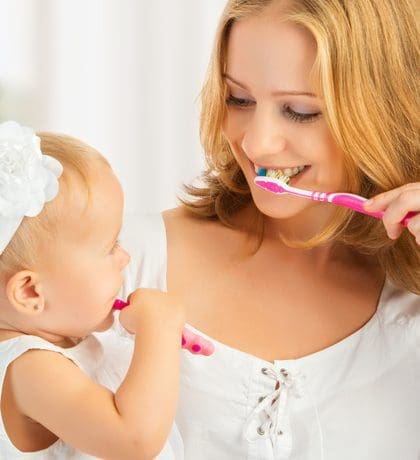 Include your child in your morning and evening brushing routine
Children look up to adults and mimic actions, having your child brush at the same time as you are instrumental in guiding your child down the path of smart dental health. This simple act may also prevent your child from refusing to brush their teeth, lessening the chance of a struggle when it's time to brush.
And Parenting Tips Do Not End With Brushing
In this article, we just spoke about brushing, an essential foundation for starting your child on the right path. As a parent, there is much more to know, such as pacifiers and thumb-sucking, cavity prevention, how diet affects teeth, safety while playing sports, and much more.
Let the dental team at Suburban Essex Dental continue to guide you and your child with important parenting tips and in the direction toward good dental hygiene. What a child learns now will stay with them thru their teenage years and into adulthood. Our pediatric dentistry services are the best around. Our office, staff, and dentist are always friendly and comforting. Our families all love us, and we are sure you and your child will as well.
Get in touch with us today. We will be happy to hear from you and schedule an appointment.
Our office is located in West Orange, New Jersey in Essex County.