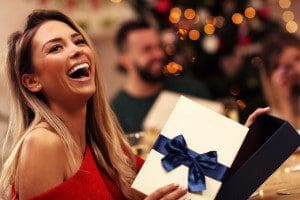 Can you believe that the holiday season is right around the corner? It's amazing how quickly the summer went by, but here we are, embracing fall. And, we all know what that means: lots of holiday festivities are in the near future.
Although the holiday season is a special time of year, it can become stressful if we don't plan ahead. We get invited to a number of get togethers, we try to see and appease all of our loved ones, plus we end up spending too much money on presents. All of the stress can zap energy and excitement for the season. That's why we're taking a minute to focus on things you can do to get prepared.
You can embrace the holiday season this year by prepping now.
Start cleaning up your house and getting rid of things you don't want. Yes, you've heard of spring cleaning, but why wait till spring? Now is a great time to start getting rid of the clutter. It will allow you to make more space for the guests who will visit your house.
Think about what your plans might be for the holidays. If you plan to hit the road or fly somewhere, start looking into travel options. You can get your trip planned early, so you don't have to worry about it at the last minute.
Get shopping. Don't wait till December to start shopping for presents. It will take a load off and help spread out your money if you start shopping now. Make it even easier on yourself by making a list. Hey, if it works for Santa…
Start a Pinterest board of DIY gift ideas. We'd recommend making this board private though, so you don't ruin any surprises. If you know which projects you'll end up completing, why not buy the supplies now and get started?
Make party plans. If you plan to host a party for any of the upcoming holidays, start thinking about them now. It will give you time to make your party better than it's ever been.
Schedule some "me time" on the calendar. Seriously, if you don't do it, you're likely to get swamped when the holidays hit.
Get ready for the holiday photos. You know you'll be in lots of photos, so get prepared. We can help you with a variety of cosmetic dentistry options, including our professional whitening solution and veneers. We invite you to visit our website to learn more about what we can do to get you photo ready.
Be Prepared For The Holiday Season
You may be sad that summer has come to an end, but instead of going into fall feeling disappointed, try to get excited for what's to come. The holiday season soon will be here. Make it really enjoyable with some pre-planning.
And do not forget to schedule your dental appointment so your teeth will look bright and beautiful.